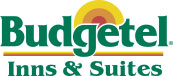 Stay.

About Budgetel
With multiple locations within the United States and overseas, Budgetel Inns & Suites provides superior value at affordable rates. We understand that quality and service should never be compromised and we are proud to provide such service at discounted lodging rates.
Budgetel Inns & Suites sees every guest as an invitation to make the world of economy traveling a better place. As such, most Budgetel Inns & Suites locations offers the following hotel amenities:
High-Speed Internet
Expanded Continental Breakfast
Local Phone Call Service
Free Hotel Parking
Budgetel Inns & Suites is part of the America's Best Franchising hotel family. Americas Best Franchising, Inc. is a nationwide family of hotels including 3 Palms Hotels & Resorts, Country Hearth Inns & Suites, America's Best Inns & Suites, Jameson Inns & Suites, and Budgetel Inns & Suites. Each and every one of our hotels strives to provide our guests with each of our core values:
Cleanliness
Friendliness
Comfort
Safety & Security
Customer Service
We're glad you've chosen to stay with us!